Safe to say that 2022 has come in hot. Between the (still) ongoing pandemic, millions of employees departing their jobs each month, and inflation steadily ticking upwards, we bet we're not the only ones yearning for precedented times.
And in the midst of all this, we're coming up on performance review season. Yikes.
Employers may need to take a new approach to performance evaluations moving forward — because let's be honest, we're now operating in a whole new age of work, with new challenges, expectations, and opportunities.
So we brought in the pros to help guide your plans. Lexi Clarke, Director of People at the leading compensation data provider Payscale, teamed up with Nava's very own Senior Manager of People Operations, Ilana Mauskopf, to share key data and tips to turn this performance review cycle into an opportunity for growth and engagement.
Read on for three major steps to carry your performance and compensation review process into the future of work.
1. Come to these conversations with empathy and humanity.
We were all going through it these last two years. And then the Great Resignation hit.
Nearly all companies experienced some level of attrition in 2021. As teams lost staff to new opportunities, remaining employees have had to put in extra time and effort to make up for a dwindling headcount — on top of navigating everything else in the world.
Maybe you don't know the specifics of what's been going on with your employees at work and in their personal lives, but you can offer an empathetic ear, a human approach, and support where it matters most.
Index on transparency wherever you can — and show your work. As Lexi put it, "Transparency is table stakes. And that doesn't mean the versions of comp transparency where you can see what everyone around you makes. It means transparency into the process, and transparency into the methodology of how you make decisions." As you approach this process, walk employees through each step, share insights into your decision-making, and leave the door open for questions.
Consider offering training opportunities for managers to prepare for these conversations. For example, PayScale launched office hours for leaders to ask questions, seek feedback, and help strengthen a sense of community across teams. Lexi explains, "Your leaders are key to a lot of these initiatives succeeding. I always say that anything that you roll out in terms of compensation, it's only as good as the manager who is bought in and can explain it to their employee."
Open the door to two-way feedback. Try issuing surveys, implementing office hours, or even setting aside time during the review to discuss how your company could better support its employees. This helps create a space where your employees feel valued, and can also help shed light on issues that may be hindering growth. As Ilana pointed out, "We should never wait until an employee leaves to get those answers."
2. Consider quality-of-life edits in addition to compensation changes.
If your employees are spending 40 hours a week at work, maybe it's time to consider how it impacts their life and wellbeing. And that means looking beyond compensation as a dollar amount.
"Think about this holistically, beyond comp and performance," Ilana emphasized. "[When] thinking about what motivates an individual employee, maybe it's not comp. Ask questions to get to the bottom of that: What excites you most in your job? How do you define success in your career? What projects are you most proud of? Individualizing this experience for each employee instead of making it about comp and assuming that's what motivates people [is especially important] in this world where we've all been through a roller coaster these past three years."
Emphasize their role in the bigger picture. As the pandemic forced us to pause, people everywhere reconsidered what they want — and what they want their work to accomplish. As a result, many workers are looking to see a greater impact from their careers, driving them to seek opportunities at mission-driven organizations. If you have the opportunity to highlight how their contributions fit into the company's larger goals — during company-wide meetings, in 1×1 conversations, or on team retreats — this could nurture a greater sense of purpose among your teams.
Adapt your employer value proposition around your company's flexible work offerings. In a pre-Covid world, only 3.6% of the workforce was remote, per PayScale's data. Now, that number has jumped to 25-30%, while 80% of employees say they've long wanted the option to work from home. Still, not all jobs can realistically offer remote or hybrid work. As Lexi recommends, "Think about where you can offer flexibility in other places, maybe that's in your paid time off, maybe that's in kind of other offerings."
Provide a total rewards statement. These statements, which detail the value of benefits and other perks, are key to ensuring that your employees see the full picture of their compensation, and not just the dollar amount of take-home pay. Ilana recommends spelling out the monetary value of the full offering, "to help candidates compare offers holistically, and not just base it on comp, especially for employees earlier in their careers."
3. Redesign your compensation structure to meet the needs of a changing world.
The world is changing. Can your compensation structure keep up? Early polls from PayScale suggest that about 57% of companies plan to stick to a standard merit approach with an average increase around 3-3.9% — but Lexi encourages employers to "think a little bit differently around that merit and compensation increase cycles," at the risk of losing employees.
Ensure that remote and in-person employees have equitable access to pay raises and professional development opportunities. "There are studies that show remote workers oftentimes have lower rates of promotions and pay increases," Ilana explained. "So we want to be really careful about reviewing the data and making sure that we're giving increases and promotions equitably across both types of environments."
Determine your company's stance on geo-differentials in pay. The last two years have ignited a wave of relocations, particularly among remote employees. Should companies adjust their salary ranges based on where employees live, or offer location-agnostic pay? Well, it's not that black-and-white. Ilana and Lexi recommend looking at your own company's capabilities and values, as well as what others in the industry (read: your competition for talent) are doing.
Factor rising inflation into comp increases. In the last year, the average cost of goods and services has risen by 6.2%. Are your cost-of-living pay bumps going to keep pace? If not, is there any other way to sweeten the pot with upgraded benefits, perks, or flexibility?
Watch the full Ask Me Anything (AMA) session with Lexi and Ilana: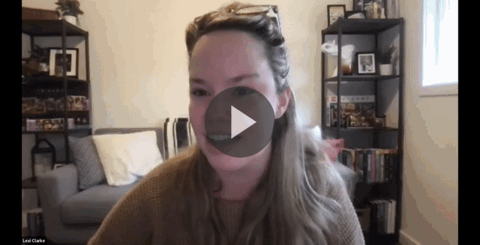 ‍
About the Authors